Studs and Duds: Divisional Round
Mon Jan 24 10:44am ET
By JEFF PAUR
Sr Fantasy Writer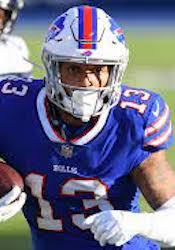 Davis scores four touchdowns
Well, that might have been the greatest playoff weekend ever. Wow. Those were some games and more than made up for the duds of the previous weekend. There were plenty of high scoring fantasy players as well, which was another plus of the weekend. Hopefully, you were able to enjoy the games and win your fantasy contests.
Bengals 19, Titans 16
Fantasy Stud: Joe Mixon. Mixon didn't run for a ton of yards but got plenty of work and lots of targets in the passing game, leading to big fantasy numbers. Mixon ran 14 times for 54 yards and a touchdown, and caught six passes for 51 yards. He had 105 total yards, scoring 22.5 fantasy points. Mixon has gotten more work in the passing game late in the season, having at least six receptions three of four games. His added work in the passing game really gives his fantasy value a boost.

Fantasy Dud: Joe Burrow. His team won but Burrow wasn't much help to his fantasy owners. He did top 300-passing yards but didn't score a touchdown. Burrow was 28-of-37 for 348 yards with an interception. He really played well despite his lack of scores because he was under siege throughout the game, getting sacked nine times. Burrow had just 16.9 fantasy points, though, which was disappointing.
Game Notes: Derrick Henry returned from his foot injury and got about as much work as normal. He had 20 carries for 62 yards and a touchdown. Henry looked healthy and ran pretty well, especially if you consider this was his first game in a long time.
A.J. Brown was heavily targeted once again, getting five receptions for 142 yards and a touchdown. Brown had 140-plus yards two of his last four games.
49ers 13, Packers 10
Fantasy Stud: Aaron Jones. There was not much offense in this game, but Jones was huge for all his fantasy owners. He led the Packers in receiving, catching nine passes for 129 yards. He also ran 12 times for 41 yards, finishing with170 total yards. Jones had another good season for the Packers but it will be interesting to see what the Packers do with him this offseason with A.J. Dillon emerging as legit starter.

Fantasy Dud: Aaron Rodgers. There were a lot of duds in this poor offensive game, but we'll give the honors to what many consider the MVP of the league. Rodgers failed to score a touchdown in the Packers stunning defeat, going 20-of-29 for 225 yard without a touchdown or interception. Rodgers is going to be the talk of the offseason, seeing where he lands for 2022. He'll have plenty of suitors, including the Packers.
Game Notes: A.J. Dillon injured his chest in this game and was unable to return to action. He did find the end zone before getting hurt. He ran seven times for 25 yards and a touchdown.
Jimmy Garoppolo had a rough game despite the 49ers winning. He had a lot of struggles, especially making plays down the field. He was 11-of-19 for 131 yards with an interception. The good thing for Garoppolo is the 49ers won the game.
Rams 30, Bucs 27
Fantasy Stud: Leonard Fournette. Fournette had a big performance in his first game back from a hamstring injury. He got most of the work at running back for Tampa and played well. He ran 13 times for 51 yards and two touchdowns. Fournette also had nine receptions for 56 yards. He topped 30 fantasy points in the game. Fournette had a big season as the Bucs starter and looks to have the job again next year.

Fantasy Dud: Cam Akers. Akers dominated the work at running back for the Rams, but didn't do much with a lot of touches. He ran 24 times for just 48 yards. He caught three passes for 20 yards. He also lost to fumbles in the game, including one late that led to the Bucs tying the game. Akers had a rough game but should be the lead back for the Rams for years to come. He has a lot of talent and can play at a high level in that role.
Game Notes: Cooper Kupp had one of his usual big games. He caught nine passes fro 183 yards and a touchdown. Kupp has 12 100-yard games this year.
Mike Evans had his second straight 100-yard game. He had eight receptions for 119 yards and touchdown. He had 17 receptions in his two playoff games this year.
Chiefs 42, Bills 36
Fantasy Stud: Gabriel Davis. Davis had the best game of his career. He had one of the best all-time playoff games for a receiver. Davis had eight receptions for 201 yards and four touchdowns. It was the type of game that can change the career path for Davis. He could be a huge part of this passing game going forward, playing alongside Stefon Diggs.

Fantasy Dud: Stefon Diggs. The Chiefs did a really good job of containing Diggs. He had three catches for seven yards. This was his first game all season with fewer than 10 yards. You just expect better from the Bills top target in the passing game. He remains one of the best in the game, though, despite this down showing.
Game Notes: Both starting quarterback had four touchdowns in this game. Josh Allen was 27-of-37 for 329 yards and four touchdowns without a turnover. Allen also led the team in rushing, running 11 times for 68 yards. Patrick Mahomes was 33-of-44 for 378 yards and three touchdowns without a turnover. Like Allen, Mahomes also led his team in rushing, running seven times for 69 yards and a touchdown.
Clyde Edwards-Helaire returned from his shoulder injury and played well. He ran seven times for 60 yards and caught a pass for nine yards. He didn't get a huge workload, but about split the work with Jerick McKinnon.
Jeff Paur is a two-time finalist for FSWA Fantasy Football Writer of the Year and won the FSWA award for Best Fantasy Football Article on the Web in 2011. He also was the most accurate expert in 2012, winning the FSTA Fantasy Football Accuracy Award. If you have any questions for Jeff, email him at jeff@rtsports.com. Follow Jeff on Twitter @jeffpaur.