Studs and Duds: Divisional Round
Mon Jan 23 8:14am ET
By JEFF PAUR
Sr Fantasy Writer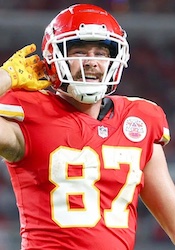 Kelce comes up huge for Chiefs
The games were good this past weekend, but not quite as entertaining as the previous week. Some of the games just weren't very close. Just two of the games were one-score games and both those games were seven-point wins. And there were some big games this year, but not a lot of huge performances. The games were a little more defensive minded, leading to lower fantasy scores. Here is to hoping you had those players that scored big this week.
Chiefs 27, Jaguars 20
Fantasy Stud: Travis Kelce. Kelce had an absolutely monster performance. He had 14 receptions for 98 yards and two touchdowns. He was leaned on early and often throughout the game. This could be a theme for the entire playoffs for the Chiefs passing game, leaning on their best player in the passing game as much as possible. Kelce scored a season-high 35.8 fantasy points in the game. He had season highs in receptions and targets (17).
Fantasy Dud: JuJu Smith-Schuster. Smith-Schuster did not get much work, catching two passes for 29 yards. He had fewer touches than fellow receiver Kadarius Toney. Smith-Schuster hasn't been very good down the stretch, though. He has fewer than 40 yards four straight games and six of eight. He hasn't been the same playing since returning from injury in Week 12.
Game Notes: The big news in this game is Patrick Mahomes suffered an ankle injury. He left the game for a few series but was able to return. He clearly wasn't 100 percent, though. He finished the game 22-of-30 for 195 yards and two touchdowns without a turnover.
Isiah Pacheco had a great showing in his first playoff game, topping 100 total yards. He ran 12 times for 95 yards, averaging an impressive 7.9 yards per carry. He also had on reception for six yards, giving him 101 total yards.
Eagles 38, Giants 7
Fantasy Stud: Jalen Hurts. Hurts looked a lot healthier this week and it showed in his play. He was 16-of-24 for 154 yards and two touchdowns without a turnover. He also ran nine times for 34 yards and a touchdown, giving him three total scores. Hurts had 25.1 fantasy points, producing good numbers for all his fantasy owners. Hurts might not be 100 percent recovered from his shoulder injury, but he looked a lot closer in this one.
Fantasy Dud: Daniel Jones. The Eagles did a great job of holding a red-hot Daniel Jones in check. He failed to score a touchdown. He was 15-of-27 for 135 yards with an interception. And he ran six times for just 24 yards. He had 25-plus fantasy points three straight games before this one. He scored just 8.2 fantasy points, his worst number for the entire season.
Game Notes: The Eagles ground game dominated with Kenneth Gainwell and Miles Sanders producing big. Gainwell didn't start, but had 12 carries for 112 yards and a touchdown. Sanders had 17 carries for 90 yards.
Richie James led the way at receiver for the Giants. He had seven receptions for 51 yards. James had at least seven catches four of his last six games.
Bengals 27, Bills 10
Fantasy Stud: Joe Mixon. Mixon was leaned on often in this game and produced big with his chances. He ran 20 times for 105 yards and a touchdown. He also caught two passes for 18 yards. Mixon was really quiet in the Bengals playoff opener, so it was good to see hi get it going again. It was his first 100-yard rushing game since Week 9 of the regular season.
Fantasy Dud: Josh Allen. Allen picked a bad time to have one of his worst showings of the season. He failed to score a passing touchdown. He was 25-of-42 for 265 yards with an interception. He led the Bills in rushing, but managed just 26 yards on eight carries. He did find the end zone on the ground, which was a positive for his fantasy production. Allen had a great year and will be on of the first three quarterbacks off the board in next year's fantasy drafts.
Game Notes: Joe Burrow played a strong game in tough, snowy conditions. He was 23-of-36 for 242 yards and two touchdowns without a turnover. He also ran six times for 31 yards.
Stefon Diggs had a down showing for his standards. He had just four catches for 35 yards. It was just his fourth game all season with fewer than 50-receiving yards.
49ers 19, Cowboys 12
Fantasy Stud: CeeDee Lamb. Lamb didn't score but was huge in this game. He had 10 receptions for 117 yards. He also ran twice for six yards, giving him 123 total yards. This was his fourth game this season with double-digit receptions. Lamb had a huge season as the top receiver in the Cowboys offense and seems poised for huge things going forward in that role.
Fantasy Dud: Deebo Samuel. Samuel got his touches but couldn't break a big play. He had four catches for 45 yards and ran four times for 11 yards. The Cowboys did a great job of containing the top playmaker. Samuel was held to fewer than double-digit fantasy points after having 28.5 his previous playoff game.
Game Notes: Tony Pollard suffered a fractured left fibula during the game. He had six carries for 22 yards before the injury. Ezekiel Elliott got most of the work the rest of the way and ran 10 times for 26 yards.
Christian McCaffrey was slowed by a calf injury and had four fewer carries than Elijah Mitchell. McCaffrey still produced pretty well when on the field. He ran 10 times for 35 yards and a touchdown. He also caught six passes for 22 yards.
Jeff Paur is a two-time finalist for FSWA Fantasy Football Writer of the Year and won the FSWA award for Best Fantasy Football Article on the Web in 2011. He also was the most accurate expert in 2012, winning the FSTA Fantasy Football Accuracy Award. If you have any questions for Jeff, email him at jeff@rtsports.com. Follow Jeff on Twitter @jeffpaur.