Training Camp Preview: NFC East
Mon Jul 25 11:37am ET
By JEFF PAUR
Sr Fantasy Writer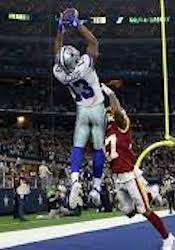 Gallup could be slowed early
This is the fifth in a series of training camp previews. The previews give you a quick look at each team, going over position battles and injuries to watch in camp. The season is right around the corner.
Eagles
The Eagles made some moves this offseason, hoping to bring their team to a new level. The big move was adding receiver A.J. Brown, giving Jalen Hurts an elite receiver on his side. This should be a huge boost to the offense. Expectations are going to be very high for the Eagles. The big thing to watch this camp will be the development of Hurts. Philadelphia needs Hurts to up his game if they hope to improve and make a run at the Super Bowl. Hurts and his teammates train at the Philadelphia Eagles NovaCare Training Complex in Philadelphia, Pa.
Position battle: Miles Sanders is fully expected to start, but the Eagles aren't going to just hand him the job. He has been up and down in a starting role and the Eagles have never fully committed to him as their No. 1 back. So he will get some competition from Kenneth Gainwell and Boston Scott for work. Hopefully, Sanders can separate himself from the competition, but this hasn't happened to date. It is a situation to watch.
Injury watch: Miles Sanders has missed time because of injury each of the past two seasons, missing nine games during that stretch. He has yet to prove he can withstand a full season as a three-down back in the NFL. Sanders needs to shed that label if he hopes to start and play a big role in the Eagles offense this season.
Giants
The Giants made a lot of moves this offseason, most notably adding coach Brian Daboll. He is considered a great offensive mind, so the Giants hope he can transform an offense that struggled last year. Much of the focus for camp watchers should be how Daboll impacts players on that side of the ball, especially guys like Daniel Jones, Saquon Barkley and Kenny Golladay. We will get to see all the Giants in action at the Quest Diagnostics Training Center at East Rutherford, N.J.
Position battle: The Giants have a lot of receivers, looking to grab playing time this year. It really is up in the air, especially if you consider the team has a new coaching staff. They are going to play the guys that catch their eye and deserve the work. Kenny Golladay, Kadarius Toney, Sterling Shepard, Darius Slayton and Wan'Dale Robinson are all candidates to earn significant playing time this year. And whoever starts should have some fantasy value in an offense that has a chance to be much improved.
Injury watch: Sterling Shepard is returning from a torn Achilles' tendon suffered in Week 15 last season. He has a long road back but is holding out some hope he might be ready for Week 1. That might be a little wishful thinking, but there is a chance. He also could miss some games to start the year because of the injury. This is an injury situation to watch during training camp. HIs status is up in the air for the start of the season.
Cowboys
There are always high expectations for the Cowboys and this year will be no different. Dallas has a lot of talent on both sides of the ball and an owner that can be impatient. This could be a make or break year for the coaching staff. They will need to get the Cowboys performing in a hurry if they hope to make a long run in the playoffs this year. Dallas trains at the Marriott Residence Inn in Oxnard, Calif.
Position battle: Michael Gallup is not expected to be ready for the start of the season, leaving an opening for the other starting job opposite CeeDee Lamb. The two top candidates for that job are James Washington and Jalen Tolbert. There is a lot of buzz for Tolbert right now, but he is going to need to keep making plays and showing well in camp. Washington is an established veteran with past starting experience, so don't discount him to start over Tolbert. This isn't a given right now.
Injury watch: Michael Gallup is trying to return from a torn ACL. He is holding out hope to be ready for Week 1, but nothing is set for him right now. Gallup has a real chance to miss a few games to start the year as he recovers from his serious knee injury. We should get a better idea of his injury status during camp and preseason action, though. If Gallup is out there practicing and looking good, don't count him out to be ready for Week 1.
Washington
Washington had a lot of turmoil with their day to day operations once again, so hopefully this doesn't the team on the field. It hasn't in the past, but you never know. The team has a new quarterback once again, hoping to have solved that problem that has plagued the team in recent years. Carson Wentz now gets to take over and try to establish himself as the franchise quarterback. He should be the big talk of camp, trying to bring more consistency to the offense. Washington has training camp at The Park in Ashburn, Va.
Position battle: Terry McLaurin is the No. 1 receiver and top target for Washington, but the other starter is up for grabs. Curtis Samuel was a big addition to this roster last season but couldn't stay healthy. The Commanders drafted Jahan Dotson this season, adding more talent to the receiver room. Dotson should have a good chance to start from day one, but Samuel has a track record and the coaching staff likes him. Samuel could keep that starting job if he proves to be healthy and is making plays on the field.
Injury watch: Starting tight end Logan Thomas tore both his ACL and MCL last season. He has made good progress from the injury, though, and could be ready for Week 1. But there seems a better chance that Thomas will miss some time early in the year. He has a long history of injury, so the Commanders won't rush him back unless he is fully healthy.
Jeff Paur is a two-time finalist for FSWA Fantasy Football Writer of the Year and won the FSWA award for Best Fantasy Football Article on the Web in 2011. He also was the most accurate expert in 2012, winning the FSTA Fantasy Football Accuracy Award. If you have any questions for Jeff, email him at jeff@rtsports.com. Follow Jeff on Twitter @jeffpaur.