Lineup Prep: Week 12
Wed Nov 24 9:47am ET
By JEFF PAUR
Sr Fantasy Writer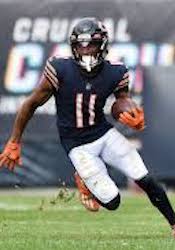 Mooney should remain hot
This is always one of my favorite "Lineup Prep" columns of the year. It is the Thanksgiving edition. I tell you all the things I'm thankful for with a fantasy spin. Here is to hoping you have a great Thanksgiving!
I'm thankful for in-depth stats. There are so many stats you access now. It is so helpful when it comes to analyzing fantasy football. You can get snap counts, target shares, red zone targets, fantasy defense stats. You name it and you can likely get it. The information for fantasy football users is off the charts this day and age.
I'm thankful for the running quarterback. The advent of the mobile quarterback has changed the landscape of the position, especially in fantasy land. Guys like Jalen Hurts, Josh Allen, Lamar Jackson and Kyler Murray have such a high weekly floor because of their ability to make plays with their legs. It makes targeting them come draft day the smart move for fantasy teams.
I'm thankful for the parity in the NFL. This league has been so crazy this year, seeing so many teams play erratic football. You just never know what you are going to see any given week. This is causing fantasy leagues to be a lot more crazy as well, having erratic point totals from week to week. I think this makes for more excitement in fantasy leagues, which is never a bad thing.
I'm thankful for rookies. Every year there are a handful of exciting, young players that take the fantasy world by storm. This year is no different with Najee Harris and Ja'Marr Chase leading the way. You never know how a rookie will pan out, but when you hit, it sure is exciting. These guys can be fantasy difference makers.
I'm thankful for players like Deebo Samuel. There are players every year that are picked in the middle or so rounds of drafts that end up being fantasy superstars. This is exactly what has happened to Samuel, who is second overall in fantasy receiver scoring. Preseason rankings don't always go as planned, so seeing a player ranked lower really outperform their draft spot is exciting. Hopefully, you hit on a few of these guys in your league this year.
I'm thankful for the easy access of information these days. It is so much easier than when I first started in the industry. My job used to be scouring the local newspapers, reading all the practice reports from the previous day. These days all you have to do is get on Twitter or search the internet for the latest practice news. The stuff is reported as it happens. This makes it so much easier for fantasy owners, having so much more information at their fingertips.
I'm thankful for the craziness at the tight end position. I know it might drive some crazy but I think it makes for some great strategy, especially come draft day. The position is just so top heavy. Do you use an early pick on Travis Kelce or Darren Waller? Or do you wait and pick two players like Noah Fant and Jared Cook to platoon on a weekly basis? It would be a lot easier if there are 10 surefire fantasy tight ends, but no one ever said fantasy football was easy, right?
I'm thankful for the NFL RedZone channel. Is there a better way to watch football as a fantasy football fan? I don't think so. I mean you get to see all the scores and all the action when teams are close to scoring. It is a fascinating way to watch the games. And it makes for some real excitement as you are trying to see what you are doing in your fantasy games. The highs and lows come real quick when watching the NFL RedZone.
Lastly, I'm thankful for all of our users. We truly have the best users in the fantasy world that are on RealTime Fantasy Sports. It is so great to be a part of. It truly feels like a community on our site and I'm proud to be just a small part of that. So I want to thank all of you out there for helping make this place the best to play fantasy sports.
News and Notes: The Texans released running back Phillip Lindsay on Tuesday. Lindsay saw his playing time dip in recent weeks, so this move isn't a complete surprise. Rex Burkhead and David Johnson should handle most of the running back duties going forward. . . . .The Bears reportedly will fire head coach Matt Nagy after their Week 12 game. . . . .The Giants fired offensive coordinator Jason Garrett on Tuesday. You could see this coming with the way the offense had played recently. Tight end's coach Freddie Kitchens will take over the offensive coordinator position going forward for the Giants. . . . .The Titans released Adrian Peterson on Tuesday. This might be the end of the line for Peterson, who did little with his chances in Tennessee.
HOT PLAYS
Brandon Aiyuk, WR, 49ers. Aiyuk has finally become a factor in the 49ers offense once again. He had his best game of the season last week, catching seven passes for 85 yards and a touchdown. He has scores two of three games and double-digit fantasy points three of four games. He is finally getting more consistent targets and producing with those chances. He should keep up his hot play this week against the Vikings, a team that allows the third most fantasy points to receivers.
Melvin Gordon, RB, Broncos. You can be frustrated all you want about rookie Javonte Williams not playing more, but at this point, it doesn't looking like things are going to change in the backfield. Gordon is going to be a big part of the offense every week. And as long as he is on the field, he has fantasy value. Gordon has touchdowns four straight games and double-digit fantasy points five straight. He seems setup for at least another score this week against the Chargers, a team that is dead last against the run and has allowed 13-rushing touchdowns.
Darnell Mooney, WR, Bears. Mooney is eighth in fantasy receiver scoring his last three games. He has taken over as the No. 1 receiver in Chicago and is playing great in that role. He had his second 100-yard game of the season last week and has touchdowns two straight. He had a season-high 16 targets last week. Mooney has moved into must start territory for fantasy teams, especially this week against the Lions. Detroit has allowed more than 30 points in a game four times this season.
James Robinson, RB, Jaguars. Robinson didn't have a great game last week but was still able to find the end zone. He has scores two straight games and seems to be getting a little healthier every week. He seems ready to have one of his big performances. And a matchup this week against the Falcons gives him a good chance for that huge game. Atlanta is a mess defensively and allow the fourth most fantasy points to running backs. The Falcons allow 123.3-rushing yards per game and have given up 10-rushing touchdowns.
Dalton Schultz, TE, Cowboys. Schultz had his best game in a few weeks in Week 11, having six receptions for 53 yards on eight targets. All the injuries at receiver for the Cowboys opens the door for Schultz to get more targets. It should be more of the same this week for Schultz against the Raiders. Las Vegas also struggles to stop the tight end, allowing the second most fantasy points to tight ends.
COLD PLAYS

Myles Gaskin, RB, Dolphins. Gaskin has been getting his most work of the season lately, having a season high 23 carries last week. He has 20 or more carries two of three games. The Dolphins have made it a point to get him more involved in the offense. But even with that said, his producing hasn't been great. He has fewer than 40-rushing yards three of four games. He might get a lot of work again this week but that might not lead to much production once again. Gaskin plays the Panthers, a team that allows the second fewest fantasy points to running backs.
Kenny Golladay, WR, Giants. Golladay has been a big disappointment much of the season. He caught just a pass for 12 yards on two targets last week. He has three receptions for 40 yards on four targets his last two games. He has a few big games this year but you can't bank on that right now with his recent play and the struggles of the Giants offense. Plus, he has a tough matchup this week against the Eagles, a team that has allowed the second fewest fantasy points to receivers.
Ryan Tannehill, QB, Titans. Tannehill had a season high 52 pass attempts last week but that didn't lead to al to of fantasy production. He scored just a touchdown and finished with fewer than 17 fantasy points. He has fewer than 17 points two of three games. The loss of Derrick Henry has really impacted the entire offense, including the passing game. Tannehill just hasn't looked like the same quarterback from the past few years. Plus, he is dealing with a lot of injuries at the receiver spot, which isn't helping. He gets the Patriots this week, a team that allows the second fewest fantasy points to quarterbacks. If you have better options, go with them.
Damien Harris, RB, Patriots. The emergence of rookie Rhamondre Stevenson is a concern for Harris owners. Harris still had double-digit carries his last time out but that total was his lowest since Week 4. We aren't giving up on Harris just yet but he might be a little more hit or miss going forward, especially against teams with good run defenses. He gets a tough matchup this week against the Titans. Tennessee is a mess against the pass but do well against the run, allowing the fourth fewest fantasy points to running backs. Tennessee is fourth overall against the rush, allowing just 97.2-rushing yards per game.
Courtland Sutton, WR, Broncos. Sutton just signed a big contract extension this week, but that doesn't mean you just plug him into your fantasy lineup. He has really struggled lately, having six or fewer fantasy points three straight games. He has 40 or fewer yards all three of those games. His production has really been up and down all year, especially with Jerry Jeudy is healthy and in the lineup. Things won't be much easier for him this week against the Chargers, a team that allows the third fewest fantasy points to receivers.
SLEEPERS
Jimmy Garoppolo, QB, 49ers. Garoppolo is playing his best football right now. He has multiple touchdowns three straight games and has just one interception during that stretch. He also has 300-yard games two of four games. Garoppolo can have another good showing this week against the Vikings. Minnesota allows the seventh most fantasy points to quarterbacks and rank 21st overall against the pass. He is a good streaming play for Week 12.
Robby Anderson, WR, Panthers. Anderson is having a really disappointing season, but starting to show a few signs of life. And the addition of Cam Newton to the starting lineup should be a good thing for Anderson. He has six targets each of his last two games and has nine receptions on those 12 targets. He is finally getting a little more work and helping fantasy teams. He might be worth a shot this week against the Dolphins, a team that has allowed the second most fantasy points to receivers this season.
Devonta Freeman, RB, Ravens. Latavius Murray returned to the lineup last week, but Freeman still started and got the most carries for the Ravens. This should continue to happen going forward because Freeman has done well in this role. He had a season-high 20 fantasy points last week. He has double-digit fantasy points four of five games. His numbers aren't off the charts but consistent, making him a good weekly flex play. He can do well again this week against the Browns, a team that has allowed at least 22 fantasy points to running backs five straight games.
Taylor Heinicke, QB, Washington. Heinicke had a tough matchup against one of the best defenses in football last week but still managed to have a three-touchdown game. It was an impressive performance. He has three three-touchdown games this season and five games with 24-plus fantasy points. He has become a good spot play for fantasy teams. And a Week 12 game against the Seahawks might be a good spot to play him. Seattle has allowed 285-plus passing yards two straight games.
Kendrick Bourne, WR, Patriots. Bourne had four more receptions last week, giving him at least four receptions four of five games. He has become a consistent factor in the Patriots passing game. He also has 14-plus fantasy points three of six games. He can help fantasy teams as a No. 3 receiver. Bourne has a matchup for more good things against the Titans this week. Tennessee allows the most fantasy points to receivers.
High/Low Scoring Games
Each week we will take a look at some of the high and low scoring games for the coming week. In high scoring affairs, get your marginal players on those teams in your lineup to take advantage of the possible points barrage. And in the low scoring games, keep those marginal players on the bench and make sure to have your defenses involved in those contests.
High Scoring Games: Raiders/Cowboys, Bills/Saints, Bucs/Colts, Rams/Packers.
Low Scoring Games: Bears/Lions, Falcons/Jaguars.
Bye Weeks: Cardinals, Chiefs.
Jeff Paur is a two-time finalist for FSWA Fantasy Football Writer of the Year and won the FSWA award for Best Fantasy Football Article on the Web in 2011. He also was the most accurate expert in 2012, winning the FSTA Fantasy Football Accuracy Award. If you have any questions for Jeff, email him at jeff@rtsports.com. Follow Jeff on Twitter @jeffpaur.