Lineup Prep: Super Bowl
Wed Feb 8 11:44am ET
By JEFF PAUR
Sr Fantasy Writer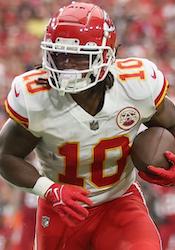 Pacheco is playing at high level
It is hard to believe, but the last game of the season is this week. It has been a great season, so let's hope it ends on a high note. The matchup certainly is a good one. I'm excited about the game and ready for the weekend of Super Bowl activities.

Now for my random thoughts for the week. . . . .
Is there a better day of the year than Super Bowl Sunday? I'm not so sure. The food. The friends. The football. What more could you ask for? I am firing up my smoker early Sunday morning like a kid on Christmas. I'll be up early, getting ready for the big game. And you can't forget about the commercials, which are always entertaining. This day has it all. Bring it on!
As for the game, this is a tough one to pick. I really think you can make a strong case for either team. For me, I am going to pick the Chiefs. I like the experience factor of being in the game before for the Chiefs. Plus, I think the Chiefs were tested more during the playoffs this year, which should help the Chiefs in this game. So I like Patrick Mahomes and company to come out on top Sunday. It will be a close game with the Chiefs pulling out a 31-28 victory.
I do think Tom Brady is done. I don't think he comes back from this retirement announcement. It finally seems official. And he goes out as he best quarterback of all time. Love him or hate him, the guy had an amazing career. The numbers and Super Bowl wins don't lie. There might not be another one like him ever. Thanks for the amazing ride Mr. Brady.
It is interesting to see the news break that the Chargers are likely to release both Keenan Allen and Gerald Everett this offseason. Allen has been a mainstay in the Chargers passing game for several seasons, but has shown signs of decline in recent years and injuries are a concern. The Chargers will need to find a replacement, though. My guess is they do this through the draft, so keep an eye on that this offseason. Either way, there are going to be some new faces in Los Angeles to help the Chargers passing game.
The Vikings made a strong hire to help revamp the defense, hiring Brian Flores to take over as defensive coordinator. He has a strong track record and plenty of success. This could help the Vikings take their team to a new level. The offense is already top notch. If the defense can get it going, watch out for the Vikings next year. This team could be really dangerous.
The Lamar Jackson saga in Baltimore is going to be really interesting to watch. The early reports are the two sides could be 100 million dollars apart in contract talks. This is quite a difference. And it really seems like Jackson isn't going to cave. I'm still not sure that Jackson ends up back in Baltimore despite the Ravens saying they aren't going to let him go. This is definitely a situation to watch.
News and Notes: Receiver A.J. Green announced his retirement on Monday. Green had a great career, especially during his playing days with the Bengals. . . . .The Colts acquired the Bills' fifth-round pick to satisfy the conditional draft pick requirement in the Nyheim Hines trade from earlier this season.
HOT PLAYS
Isiah Pacheco, RB, Chiefs. Pacheco has been very consistent down the stretch as the starter for the Chiefs. He has double-digit fantasy points five straight games and nine of 10 games. And it was really encouraging to see him get so much work in the passing game his last game, catching a season-high five passes for 59 yards. Pacheco could get a lot of work in the passing game once again this week with the Chiefs having injuries at receiver. Plus, he could do some damage on the ground against the Eagles. Philadelphia has allowed 115-plus rushing yards six of their last seven games.
DeVonta Smith, WR, Eagles. Smith has emerged as an elite fantasy receiver this year. He has been very good down the stretch. He was quiet his last game, but has at least 13 fantasy points seven of his last eight games. He has double-digit targets three of five games. Smith is getting his work and producing. Expect more of the same this week against a Chiefs secondary that can be leaky. The Chiefs have allowed the eighth most fantasy points to receivers during the regular season.
COLD PLAYS
Dallas Goedert, TE, Eagles. Goedert has been fine since returning from injury in Week 16, but not off the charts by any means. He has fewer than 50 yards three of four games. He also has fewer than double-digit fantasy points three of five games. Goedert is a little erratic right now and it could be more of the same this week against the Chiefs. Goedert is an iffy play in this matchup.
Jerick McKinnon, RB, Chiefs. McKinnon had a great finish to his regular season, but done very little in the playoffs. He has fewer than four fantasy points each of his playoff games. He has 15 carries for just 26 yards and just two receptions. His lack of work in the passing game is the big concern. McKinnon is a hard player to trust for fantasy teams after his last two playoff games.
SLEEPERS
Skyy Moore, WR, Chiefs. The Chiefs have all sorts of injuries at receiver, so Moore could play a bigger role in the Super Bowl. He had a season-high seven targets his last game, so the potential is certainly there for big things in this offense if he gets the looks. Moore could be a worth a look for fantasy teams in an expanded role.
Kenneth Gainwell, RB, Eagles. Gainwell did not have double-digit carries the entire regular season, but has reached that mark in each of the Eagles playoff games. He has 26 carries his last two games, getting a lot more work in the Eagles offense. Gainwell has at least nine fantasy points his last two games. The Eagles obviously like the way he is playing, so don't be surprised if he gets double-digit touches once again. And if he gets those touches, he can help fantasy teams.
High/Low Scoring Games
Each week we will take a look at some of the high and low scoring games for the coming week. In high scoring affairs, get your marginal players on those teams in your lineup to take advantage of the possible points barrage. And in the low scoring games, keep those marginal players on the bench and make sure to have your defenses involved in those contests.
High Scoring Games: Eagles/Chiefs.
Low Scoring Games: None.
Jeff Paur is a two-time finalist for FSWA Fantasy Football Writer of the Year and won the FSWA award for Best Fantasy Football Article on the Web in 2011. He also was the most accurate expert in 2012, winning the FSTA Fantasy Football Accuracy Award. If you have any questions for Jeff, email him at jeff@rtsports.com. Follow Jeff on Twitter @jeffpaur.