Training Camp Preview: NFC West
Thu Jul 28 1:38pm ET
By JEFF PAUR
Sr Fantasy Writer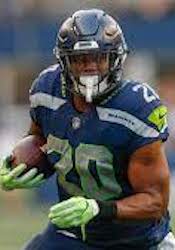 Penny has long injury history
This is the final preview in a series of training camp previews. The previews give you a quick look at each team, going over position battles and injuries to watch in camp. The season is right around the corner.
Rams
The Rams won it all last year, so the big story of this camp will be if they can do it again or will they have a Super Bowl hangover. It is so very hard to repeat, but the Rams certainly have the talent to make a run once again. Los Angeles begins their quest for a second straight Super Bowl at the University of California-Irvine in Irvine, Calif.
Position battle: The Rams don't have a lot going on with position battles. Things are pretty set with this team. The only thing we might keep an eye on is the running back spot. Cam Akers is the starter but his finish to last year was a little concerning, doing little during the Rams playoff run. Akers was returning from a major injury, though, so that could have impacted his play. Either way, Darrell Henderson might make a push for playing time if Akers shows any struggles. We would expect Akers to be fine, but his play is something to watch this camp.
Injury watch: Matthew Stafford had to get an anti-inflammatory shot in his elbow this offseason. He is ready for the start of camp, but is going to be put on a pitch count for his throws. His elbow injury shouldn't be much of an issue, but is at least something to watch. If he has any setbacks, this might impact the start to his season.
Cardinals
Arizona had high expectations last year but faded down the stretch. Much of this camp will focus on consistency for a whole season. Can the Cardinals play at a high level all year? This team needs to avoid the late-season swoon if they hope to reach expectations. The Cardinals train at State Farm Stadium in Glendale, Ariz.
Position battle: With DeAndre Hopkins suspended to start the season, the Cardinals have some openings at receiver. There are targets available. Marquise Brown should start and Rondale Moore will work out of the slot, but the No. 2 receiver opposite Brown is up in the air. A.J. Green, Andy Isabella and Antoine Wesley are the top candidates to win that job. It really is wide open, especially if you consider Green struggled a little last year with his chances.
Injury watch: Marquise Brown injured his hamstring before the start of camp and is going to be slowed some to start camp. The good news is the injury isn't considered too serious and he should be practicing very shortly. It is an injury to watch, though, because Brown is going to play a big role for his new team. He needs to get healthy and back on the field to get up to speed in the offense.
49ers
San Francisco has their franchise quarterback, Trey Lance, taking over this year. This will be the story of camp for the team. Lance has a lot of pressure on him to get better and perform at a high level for the team. He certainly has the talent to do it, but seeing his progress on the field will be something for fantasy owners to keep a close watch. Lance could be a top fantasy player because of his skill set. Lance and his teammates will get a chance to show his stuff at the SAP Performance Facility in Santa Clara, Calif.
Position battle: Elijah Mitchell is the starter for the 49ers, but the top backup job seems wide open. Rookie Tyrion Davis-Price, Jeff Wilson and Trey Sermon are the top options for the job. And this is a position battle to watch because the backup in San Francisco will get touches in this offense. Davis-Price might be the best bet to win the job, but he isn't going to be handed anything. He will need to earn it.
Injury watch: George Kittle had a calf injury at the end of last season that kept him out of OTAs during the offseason. Kittle should be just fine for the start of camp, but all the missed time because of this calf injury makes it one to keep an eye on to make sure it is properly healed. Kittle has endured some injury issues the last few seasons, so the 49ers are hoping to buck that trend.
Seahawks
Seattle is in a full rebuild mode after trading quarterback Russell Wilson. He has been a mainstay for the team, so it will be interesting to see how the offense looks without Wilson at the helm. The Seahawks are going to have a quarterback battle on their hands. This should be the big focus on camp, seeing which quarterback emerges to start for the Seahawks. Seattle holds training camp at the Virginia Mason Athletic Center in Renton, Wash.
Position battle: For the first time in a long time, the Seahawks will have a new quarterback this year. It is going to be either Geno Smith or Drew Lock. Smith seems to have a slight lead right now, but this job is truly wide open. Both players are going to get their chances to prove their worth. Lock might have the higher ceiling of the two, but needs to clean up his play on the field to win the job.
Injury watch: Rashaad Penny has a long injury history but proved his worth late last season, posting huge numbers in a starting role. He is going to be the starter in this offense as long as he is healthy. Penny already had an injury this offseason, missing some work because of a sore hamstring. Penny will be the starter as long as he is healthy, though. The Seahawks just need him on the field, though, and can't afford for him to miss any more time.
Jeff Paur is a two-time finalist for FSWA Fantasy Football Writer of the Year and won the FSWA award for Best Fantasy Football Article on the Web in 2011. He also was the most accurate expert in 2012, winning the FSTA Fantasy Football Accuracy Award. If you have any questions for Jeff, email him at jeff@rtsports.com. Follow Jeff on Twitter @jeffpaur.